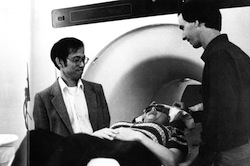 It was early 1991 and the NMR Center at the Massachusetts General Hospital—now the Athinoula A. Martinos Center for Biomedical Imaging—was flush with excitement. Jack Belliveau had recently performed his pioneering study with functional MRI, measuring regional brain activity with the technique using external contrast agents, and the possibilities of the technique seemed truly limitless.

Researchers throughout the Center were particularly inspired by the potential for brain mapping that that was evident in Belliveau's work. They could now see, more or less in real time, changes in the brain occurring in response to particular stimuli or tasks. Kenneth Kwong wanted to take it a step further, though. The need for external contrast limited the potential of fMRI in human subjects—any medically unnecessary injection poses some degree of risk—so Kwong, then a postdoctoral fellow in the Center, set out to find a way to achieve intrinsic MR contrast.
---
With two publications from the Martinos Center's Hooker Research Group, a new neuroimaging tool—the PET radiotracer [11C]Martinostat—is poised to provide a first look at an important family of proteins in the living human brain.

In the initial description of the radiotracer, in Journal of Medicinal Chemistry, postdoctoral fellow Changning Wang reports findings that demonstrate the potential of [11C]Martinostat for imaging in humans. Frederick "Al" Schroeder, another fellow, builds on this in an ACS Chemical Neuroscience paper, showing how the radiotracer can resolve HDAC inhibitor compounds that robustly reach the rat brain. He also describes the potential of these compounds to modulate behavioral response in tests related to diseases of the central nervous system in humans.
We checked in with the two researchers to learn more about [11C]Martinostat, where it came from, and what they hope to do with it. We also heard why, when developing a probe such as this, the 133rd time's the charm.
---
The Martinos Center is spilling over with talent, attracting many of the brightest minds from around the world. But the talent isn't limited to building radio frequency coils and developing novel pulse sequences for acquisition of MR data.

Anastasia Yendiki is a researcher who focuses on methods for mapping the circuitry of the human brain. At the Martinos Center, she develops robust data analysis methods for MRI. Her algorithm for automated tractography is distributed publicly as part of the FreeSurfer software package, and is used at dozens of labs worldwide to study how brain pathways are affected by disease.
Anastasia is also a flamenco dancer.