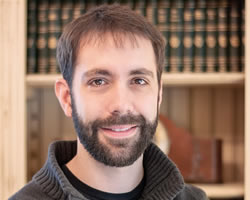 Positron emission tomography – more commonly known as PET – offers researchers and clinicians a means to peer into the human body, to gain better understandings of the chemical and biochemical interactions that occur there. Using the technology, investigators have been able to glean new insights about the underpinnings of disease, improve diagnosis and prognosis, and accelerate the development of new therapies.
All of this is made possible by chemical compounds known as radiotracers, the imaging agents used with PET. This is where Jacob Hooker comes in. The Director of Radiochemistry at the MGH Martinos Center for Biomedical Imaging and an Associate Professor at Harvard Medical School, Hooker leads a research group at the Center widely known for its development of novel methodologies to produce PET agents, as well as for its ability to perform innovative and challenging radiochemistry and multimodal imaging.
---
The prevalence of unnecessary biopsies is an ongoing problem in breast cancer screening. Some three quarters of biopsies on lesions found in the breast turn out to be negative, resulting in undue stress for patients – stress in undergoing the procedures themselves and then in having to wait to hear the results – while contributing to higher overall healthcare costs.
Now, an emerging technology is showing promise in helping to reduce the number of unnecessary biopsies. The technology, called tomographic optical breast imaging, or TOBI, can measure variations in blood supply and metabolism associated with the formation and growth of tumors. This information can be used to distinguish tumors from noncancerous lesions, and thus potentially rule out biopsies on those lesions.
---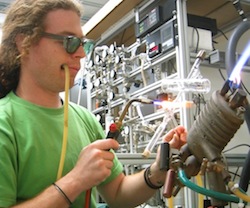 Scientific glassblowers, like streetcar conductors and silent movie organists, are a vanishing breed.
"There are very few left in the world," said Matt Rosen, director of the Low-Field Imaging Laboratory at the MGH Martinos Center for Biomedical Imaging. "And even fewer who can manufacture the glass optical pumping cells I use in gas hyperpolarization systems."
Fortunately, particularly for those who depend on such things, Rosen is working to keep the tradition alive, creating glass equipment for his research and even teaching others the finer points of the practice.
---
When you hear the words "MIT radio station" you might imagine a group of nervous, bow tie-clad engineers crowded around a chalkboard with a Venn diagram of Roger Dean album covers and Silmarillion references. And you might be forgiven if you did. Such stereotypes of science and engineering students are, of course, deeply ingrained in our collective unconscious.
"Here's my favorite MIT joke," says Keri Garel, a research coordinator in the TRANSCEND Research Group in the MGH Martinos Center for Biomedical Imaging in Boston: "How do you tell an extrovert at MIT?"
Give up?
"They're the one looking at other people's shoes."